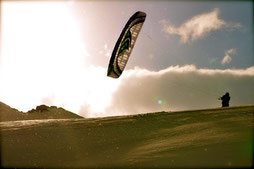 From 6th – 8th march 2015 the Lake Reschen in Italy will host the Snowkite Open and is therefore the place to be for the international Snowkite-Elite. The organizer expects many participants from all over Europe to find out who will become the European Racing Champions 2015. 
Altitude of 1500m, the area around Lake Reschen is due to their great snow and wind guarantee well known as the Snowkite-Mecca in Europe. Snowkiting is a sport where the athlete uses a big kite and a snowboard or skies to ride on the snow. 
For three days, the Snowkiter will provide exciting competitions in three disciplines. 
At the first day, the 6th March, the competitors could warm up during a Long Distance Race. Therefore the participants will chase a large course around Lake Reschen. 
On Saturday and Sunday there will be the classic race which means that the competitors must complete a several-kilometer long triangular course. At these races it is very important to be fast and tactical. With great winds, a Snowkiter can reach speed between 80 – 100 km/h. 
If the conditions of the snow allow, the Freestyler will also start their competition. At the Freestyle division the athlete uses his kite to lift himself a few meters up in the air to show spectacular tricks and rotations to the jury. 
After the competitions the overall ranking of the Snowkite Open will also award the Italian Tour Champions and German Champions. 
"Since several years we run international Snowkite-Events at Lake Reschen. But I am more than happy that this year we are able to host the 1. International Snowkite Open. Special about this event will be the combination of two Snowkite-Events – the Italian Championships and the German Championships. An international and varied audience will visit Lake Reschen from 6th – 8th March 2015", says Uli Stampfer, managing director of holiday region Lake Resia. 
Who doesn't want to take part at the competitions can test for free the new products and equipment from well-known manufacturer. The Snowkite-schools around Lake Resia offer daily courses for beginner.