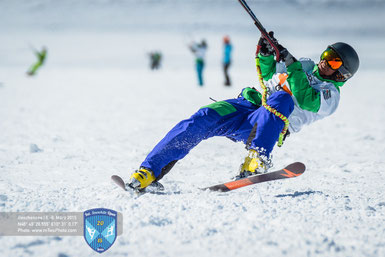 The International Snowkite Open took place from 6th to 8th March at Lake Resia, Italy.

64 riders from Germany, Austria, Switzerland, Italy, France, the Netherlands and Czech Republic participated at that international event in Italy. Florian Gruber from Germany (Garmisch Patenkirchen) was able to secure a double victory in racing and freestyle, which crowns him the new European Champion in Racing and the new European Champion in Freestyle Ski.  
During all competition days the conditions were excellent with great wind and sunshine. At the first day of the event the Long Distance Race, where the athletes needed to finish a 40 km long course on ski (3 rounds) or snowboards (2 rounds), kicked off. Dominik Zimmermann (GER, Ozone) won the Long Distance Race on his ski. The fastest on the snowboard was Reinhold Gehrer (AUT, Flysurfer). Austrian Eliska Parma (JN) was the fastest woman on the snowboard, Martina Brinz (GER, Flysurfer) won on her ski.
The freestylers were able to show their big jumps, difficult tricks and rotations on Saturday and Sunday. Florian Gruber (GER/Ozone) secured the first place in freestyle ski followed by Robin Alex (FRA/Flysurfer) and Bruce Kessler (SUI/Naish). Snowboarder Heinar Brandstötter (AUT/JN) has beaten local hero Fabian Oberhofer (ITA/Slingshot), followed by French Laurent Guyot (FRA/Flysurfer).
Most of the riders competed at the discipline racing. During the two days the competitors were able to finish 10 races. On his ski, with 4 victories out of 10 races, Florian Gruber (GER/Ozone) won the event in front of his team mate Dominik Zimmermann (GER/Ozone). The third place was taken by Ronny Bollhaider (SUI/Ozone).
In the category racing/snowboard Davide Bizzotto (Wainman) from Italy became the new European Champion. Reinhold Gehrer (AUT/Flysurfer) became second and Andi Hanrieder (GER/Flysurfer) became third overall. Martina Brinz (GER/Flysurfer) became first in the girls fleet, followed by Franziska Moll (GER/North) and Italian rider Silvia Semprini.  
One of the highlight was the Kitetracker.com Speed Challenge supported by "Vegetarischer Versand". With a 100,13 km/h Michael Kaspar (SUI/Flysurfer) on his ski was the fastes man. With 51,3 km/h Eliska Parma (AUT/JN) was the fastes woman on the track.