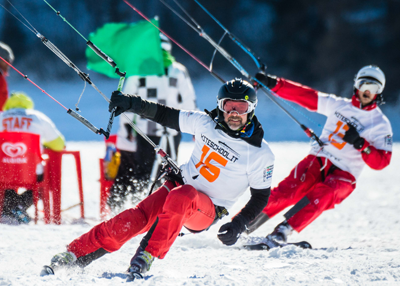 From 26th to 28th February the Lake Resia will host the 8th edition of the International Snowkite Championships and welcomes Europe's best snowkiter. For the upcoming three days, athletes from Austria, Switzerland, Germany, France, Croatia, the Netherlands and the Czech Republic will compete in Freestyle and Racing against World Champion Ronny Bollhaider (CH) and European Champion Florian Gruber (GER). 
On Friday, the event will kick off with a Long Distance Race where the riders need to finish an 80 km long race around the frozen and snowy lake. The following days will be packed with more races and freestyle action. For the races, the judges need to set a long triangle course, which the competitors need to complete as fast as possible. At the freestyle discipline, the athletes show spectacular high jumps and rotations. On Sunday afternoon, we will crown the new European Snowkite Champions on Ski and Snowboard. 
With a mulled wine and German sausages the spectators can warm up next to the competition area. Our partners HQ Powerkites, Flysurfer, Ozone, JN Kites and Libre Powersails offer a testival during the whole weekend for all snowkiting fans. In case you want to learn snowkiting you can book a course at the event side.