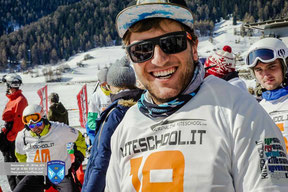 Gorgeous sunshine expected the 41 participants from five nations on the first day of Int. Snowkite Championship at Lake Reschen. While the riders registered for the event, light winds were blowing from the North, but shortly before the competition it went down. The riders were therefore set to enjoy the sun and relax before the long distance race could be started. But the wind didn't let the participants wait for too long. Shortly after the wind turned south and thermal wind promised a good race.
Therefore the Long Distance Race was held as a triangular course in the northern half of the lake. The one who finished the most rounds in one hour should become European Champion.
The winner Florian Gruber (GER) was able to ride the course on skis 11 times and was pleased with the race: "The south wind came in well and in the first 25 minutes I had a proper battle for the lead with Jonas Lengwiler (SUI). After a tangle with another competitor, he left me behind and I was in position 3. However, I was able to overtake him again and still get victory. "Felix Kersten (GER) won second place and Jonas Lengwiler (SUI) became third in the discipline Long Distance Men Ski.
In the Men's Snowboard division won Reinhold Gehrer (AUT) ahead of Czech Lukas Vogeltanz and the German Stefan Brinz. His wife Martina Brinz (GER) finished as fastest women on ski. In the Women's Snowboard division Inga Mohr (GER) won against the Italian Silvia Semprini. On Saturday night during Rider's Dinner at the Hotel Edelweiss the European Champions in the Long Distance Race will be crowned in a cozy atmosphere.
The Saturday morning starts with registration for the disciplines Race and Freestyle. As quite a few big names have announced their attendance a day full of action and excitement can be expected.

All Results here...

All Pictures here...