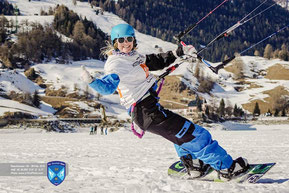 The second day of Int. Snowkite Open started with heavy clouds and light snowfall. But it was enough wind for race and that's what counts. The starting field with 52 riders from 6 nations battled for the European Championship title in Race. Four races with two laps each were held before the freestylers could compete in the afternoon.
Five skiers and seven snowboarders (with one being a token woman) competed in the freestyle discipline. The skiers rode a single elimination and the snowboarders used a dingle system. The conditions were very hard and icy with just a thin layer of snow on the ice. Nevertheless, the freestylers didn't let themselves get scared by the conditions and showed spectacular tricks in their heats.

It was a successful day at the Int. Snowkite Open. Both Race and Freestyle could be driven. Currently the protests are still being evaluated. The results of Race and Freestyle will be announced tomorrow at the award ceremony. With appropriate wind conditions more races will be started on Sunday morning.

All Results here...

All Pictures here...