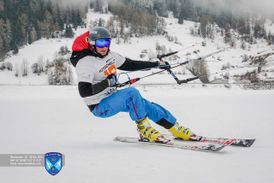 Two successful days of competing in the disciplines Long Distance Race, Freestyle and Race lie behind us. On the third and final day of the Int. Snowkite Open three more races could be started. During the morning the weather was still okay with heavy clouds, but after the third race the competition was canceled due to the emerging bad weather.
Overall winner and winner of Race Ski Men Florian Gruber (GER) fought in an exciting head-to-head race for the gold medal with the reigning world champion Ronny Bollhalder (SUI) but could ultimately send him to second place. Third place went to Felix Kersten (GER). Reinhold Gehrer (AUT) dominated Race Snowboard Men. Second place went to Andi Hanrieder (GER) and third place to Davide Bizzotto (ITA). Best woman on ski was Bettina Prinz (GER) and Inga Mohr on snowboard (GER). 
The winners of Saturday's Freestyle competition were announced today. The only 16-year-old skier Bruce Kesser (SUI) was very happy about his victory which he could score with a Flat 3, Back to Blind and Front Blind against Tobi Decker (GER) and Andreas Schmidt (GER): "I could land my tricks in each heat and thus won all heats. I am now looking forward to defending my title next year." In the snowboarders division the 18-year-old Andrea Luca Ammann (SUI) won with a nice Back Mobe, Blind Judge, Back to Blind Pass and Front Blinded against Heinar Brandstötter (AUT) who showed tricks like a Slim Chance, Back to Blind and Crow Mobe. Third became Patrick Andergassen (ITA).

In addition to the European champions and the champions were chosen by Italy, Switzerland and Germany.

We thank all participants and sponsors for the great event and wish a safe travel home. See you next year!

All Results here...

All Pictures here...