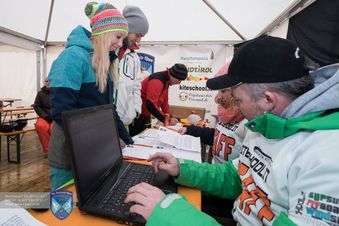 More than 40 riders from Italy, Switzerland, Austria, Germany and Spain arrived today at Lake Reschen for the first competition of the Int. Snowkite Open. Day 1 was all about Long Distance Racing. After the contestants got excited about 20 cm of fresh snow on Tuesday the conditions appeared more challenging today. Sleet turned the snow into slush and the black ice was now only covered by centimeters of snow.
The wind kept the contestants waiting but then the news spread that wind sprung up in the upper area from the race course and would soon hit all of the lake. So at 1.30 pm the start flag was up for the European Championship in Long Distance Racing. Four rounds up South to the dam wall and back had to be completed by the riders, so a total of 80 km. Light 7-8 knots made the start quite challenging but with the wind picking up during the race the spectators got to watch an exciting battle for leadership.


Felix Kersten (GER) was quick to take the lead on skis. The first round took him around 30 minutes but with upcoming winds he was able to finish the second round in about 20-25 minutes and more than 5 minutes ahead of all others. However, the sight was declining and the race management had to make the tough call to cancel the race after round three of the fastest competitor  because conditions got too dangerous. So instead of the planned 80 kilometers, only 60 kilometers were finished. The challenging conditions forced several riders to give up even before and make their way back to the event area.


Kersten claimed deserved victory, followed by the second fastest skier Michael Kaspar (SUI) and Number 3 Markus Pompl from Germany. Last years champion Florian Gruber (GER) who was struggling with his choice of skis in the wet snow fell back behind expectations only finishing as 6th.


The biggest surprise of the day was Swiss Jonas Lengwiler, a long year contestant on skis who switched to snowboard only the day before the race. So without any practice he was able to clearly lead before the second snowboarder Reinhold Gehrer (AUS) and third Aldo Storelli (ITA) and even leaving most of the skiers behind him.
Three women faced the challenge of Long Distance Racing with Bianca Roth (GER) coming in ahead of Nadine Stippler (GER) in the ski division and Silvana Semprini (ITA) in the snowboard decision. Congratulations to all the riders!


After this first successful, exciting and challenging day we hope for some snow fall in the night that tomorrow´s Freestyle and Course Race can take place in good conditions. Come join us at the beach of Lake Reschen for the contest and the Riders Dinner at Hotel Edelweiss in the evening!
Results Long Distance 2017
Results Long Distance 2017
long distance_result_2017.pdf
Adobe Acrobat Dokument
108.5 KB