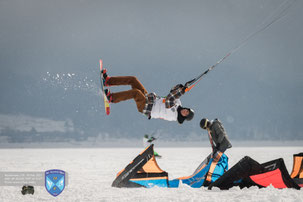 Today at the Int. Snowkite Open we had Freestyle and Course Race with over 60 participants. The weather god played games with us and sent us all kinds of weather, such as rain, snowfall, fog and sunshine.
Freestyle was run with a new contest format that was very well accepted by the riders. Everyone got three runs with six trick attempts and the contest area all for him- or herself. The best five tricks of each run were counted towards the score and the best of the three heats was then considered for the overall score. Five guys and three girls competed on snowboard. However, the conditions were scatchy because of the icy surface and discussion took place if Freestyle should be cancelled. After the decision to run it was made by the riders they nevertheless showed impressive tricks like Slim Chance, Front Blind Mobe and Backmobe. In a very close call Heinar Brandstötter (AUT) outdid Andrea Amann from Switzerland by only 3,2 points. Third place went to Fabian Oberhofer (ITA). In the girls devision Jana Schrader (GER) demonstrated solid riding and took victory. Second place went to Aina Reynolen from Norway and third to Inga Mohr (GER).
Six races were held today. Several riders trusted in prototypes and interesting board types such as an 2,40 m board riden by Davide Bisotto (ITA). Jonas Lengwiler (SUI) again was ahead of all competition on Snowboard. On Ski Florian Gruber (GER) was back on his old strength and won every single race. 
The award ceremony for Freestyle takes place at the Riders Dinner at the Hotel Edelweiss today. Tomorrow more races will be held and the overall winners in Race will be crowned.