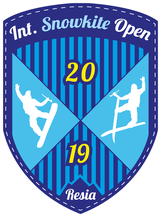 10 years International Snowkite Open at Lake Reschen – let's get ready to party! In cooperation with the International Kiteboarding Association (IKA), the first stop of the Snowkite Worldcup on Lake Reschen will take place from the 26th until the 28th of January 2018. 
Altitude of 1500 m, the area around Lake Reschen is due to their great snow and wind guarantee well known as the Snowkite-Mecca in Europe. Snowkiting is a sport where the athlete uses a big kite and a snowboard or skies to ride on the snow.
The organizer expects next to professional athletes like Florian Gruber, Felix Kersten and Jonas Lengwiler more than 100 participants from all over the world for an exciting weekend full of races.
The event will be opened on Friday by a long-distance race around the Lake Reschen. On Saturday and Sunday, the athletes show their skills in the discipline racing, in which the participants have to complete a special course several times. In these races, top speeds of up to 100 km / h can be achieved. This year there will be a separate ranking for the freeriders, so that everyone, even without professional equipment, can participate in that competition.
In addition to the World Cup in Racing, if the weather conditions permit, a stand-by freestyle contest will take place. In freestyle the athletes jump high with the support of the kite and show great acrobatic moves in the air.
The supporting program will not be lacking either - well-known manufacturers present the latest snowkiting equipment, which can be tested for free on site. Directly at the event site, local partners will provide spectators with national delicacies and delicious hot drinks, so that aprés kites can start in the late afternoon.