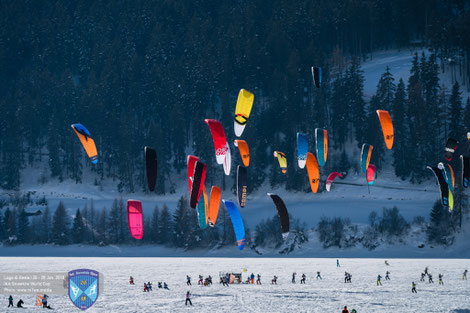 The kick off of the first event of the IKA Snowkite Worldcup was a great success with finishing the Long Distance Race during the sunny afternoon. 
After the registration in the morning and the Riders Meeting, lead by our Race Director Markus Schwendtner, we have started the Long Distance Race in good conditions. The sun was out and the wind was blowing, competitors prepared their gear and spectators were watching this exciting race from the top of our event village. 
Florian Gruber (GER) won in front of Felix Kersten (GER) and Bruce Kessler (CH) the Long Distance Race on Ski.
Within the Snowboard Division Ronny Bollhalder (CH) was leading until the end, but got overtaken by Bernd Spiering (GER) and Aldo Storelli (ITA). 
Nadine Stippler (GER) was the only woman starting in the Ski-Divison - the Snowboard Division was bigger and Aija Ambrasa from Latvia was able to finish the race in front of Silvia Semprini (ITA). 
After the award ceremony we'll finish the day in front of the Flysurfer and kite-elements.de booth with hot tunes and drinks.
Registration for Course Racing and Freestyle will take place tomorrow from 08:30 am  - 09:30  amwith the Riders Meeting at 10am and a first possible start at 11am.