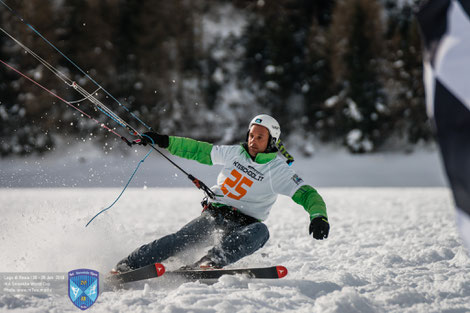 From the 26th – 27th January 2018 – Lake Reschen was the place to be for more than 80 Snowkiters from all over the world. The International Snowkite Open hosted the first leg of the IKA Snowkite Worldcup 2018 and can look back to an action packed weekend. 
The first day was all about the Long Distance Race, where 81 Snowkiters tried to finish the course around the lake as fast as possible. After approximately 60 km and 1hrs and 39 minutes Florian Gruber (GER) finished just before Felix Kersten (GER) and Bruce Kessler (CH) within the ski division. In the snowboarding division Ronny Bollhalder (CH) was leading the first two rounds and had the victory pretty close until cramps in his legs stopped him from keeping up his lead. Bernd Spiering (GER) and Aldo Storelli (ITA) took advantage and left Ronny in third place.  
Nadine Stippler (GER) was the only woman on ski, who finished the Long Distance Race. Latvian power girl Aija Ambrase was able to win against Silvia Semprini (ITA) on her snowboard.
Saturday and sunday was all about Freestyle and Course Racing. Unfortunately the wind didn't show up on saturday so that the spectators and competitors enjoyed the beautiful weather and great athmosphere at the event village. With no races on saturday the regatta crew was motivated to go for as many races on sunday as possible. After 6 successful races and a few prostest hearings the organizer were able to crown the winners of the first event of the IKA Snowkite Worldcup 2018.
Felix Kersten tried hard to fight against his landsman Florian Gruber, but couldn't beat his outstanding performance. With another second podium spot it was truly a successful weekend for Felix. The third place goes to Russian Pro-Rider Andrei Balyakin.
Also the girls showed that they belong on the racing track. On her snowboard, Aija Ambrasa from Latvia won every single race and secured well deserved the first position on the podium. Silvia Semprini from Italy saved the second place before Judith Müller from Germany.
With her first time on ski while kiting, Jana Schader (GER) left Anna Maria Gadzinowska (ITA) and Lisa Pozzi (CH) behind and scored another spot on the podium.
In the afternoon the Freestylers were able to show what kind of tricks they got in their pockets. In the middle of lake they hit the kicker and self-made slider and impressed the crowds with spectacular rotations and jumps.
Andrea Luca Ammann (CH) was able to take the win before local Rider Fabian Oberhofer (ITA) and Heinar Brandstötter (AUT). Jana Schader (GER) went straight after the races into the Freestyle-Competition and won against Aina Renolen (NOR) and Carola de Groot (NED).