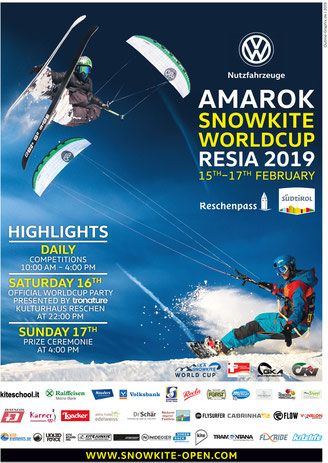 Volkswagen Comercial Vehicles is extending its engagement in kiteboarding into the winter season. The company has aquired the title sponsorship of the snowkite worldcup at Reschensee (Italy). The prestigious event will take place almost 1500m above sea level from February 15th to 17th. The snowkite worldcup at Reschensee is known as one of the most important snowkite events in the world. Up to 100 athletes from all over the world are expected in the unique holiday region at Reschensee.
"We are very delighted that Volkswagen Commercial Vehicles is intensifying its kitesurf engagement.
Since years Volkswagen Commercial Vehicles is succesfully as partner of the surfer at the Multivan
Windsurf Cup and the Multivan Kitesurf Masters. Now the chance was there to extend the partnership
into the winter season with the Amarok Snowkite Worldcup." says Matthias Regber from the organizer
Choppy Water GmbH.

"Volkswagen Commercial Vehicles is the partner of the surfer. With the title sponsorship of the Amarok
Snowkite Worldcup we can fill this partnership with life even in winter. We are excited for an action filled
worldcup at Reschensee!" says Simone Brüsewitz, responsible for sponsorships and co-operations at
Volkswagen Commercial Vehicles.


Since 2015 Volkswagen Commercial Vehicles is acting successfully as title sponsor of the leading
German series Multivan Kitesurf Masters. The partnership with the Multivan Windsurf Cup in the
windsurfing segment is even longer. At these leading national series in wind- and kitesurfing the car
manufacturer is present at Germanys most beautiful beaches and reaches a total of 500.000
spectators.