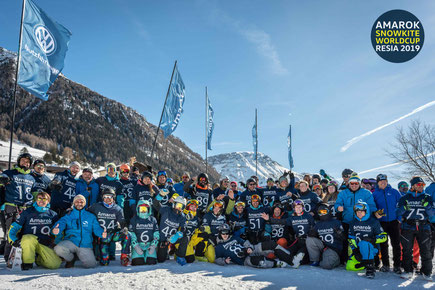 The second tour stop of the IKA Snowkite Worldcup takes place at lake Resia in Italy from 15th to 17th February 2019. Already on the first day of the event more than 70 snowkiters from all over Europe came together at this unique venue. This year, Volkswagen Commercial Vehicles appears for the first time as the title sponsor of the tour stop giving the event the title of "Amarok IKA Snowkite Worldcup".
On Thursday the first participants arrived at Lake Resia. They got an impression of the conditions and their opponents, they lapped on the lake and prepared for the upcoming competitions. The riders were looking forward to a weekend that according to the weather forecast should provide plenty of sunshine and perfect wind.
On the first official day this fantastic weather forecast was confirmed. The first step was to register the participants, provide instruction on safety regulations and hand over the sponsors' food packets. Val Venosta Vinschgau, Schär, and Loaker supply the riders with healthy snacks for the extra energy boost.
After the organizational part of the day was complete, everything centered on the long distance race where as many laps as possible should be covered within 90 minutes. In each lap the riders cover a distance of 7 km. Florian Gruber from Germany dominated the race of the ski division right from the beginning. Felix Kersten who is also German followed him on second place and Pavel Kolabin from Russia achieved a great third place.
There is also a clear winner in the Snowboard Division. But please note: In contrast to Gruber it is not a German and not a man. The Russian Valeria Garashchenko was able to prevail over all female and male opponents and took a terrific first place. Reinhold Gehrer also did a great job and was the first man to cross the finish line. 
The Russian Dennis Garashchenko fought a duel with Bruce Kessler from Switzerland. Garashchenko won and was the second man who finished. Kessler followed him a short time later and thus got hold of the third place among the men. 
The second lady at the finish line was Chanti van Boxtel from the Netherlands. Among the skiers, Mariska Wildenberg from Holland took the first place. 16-year-old Maya Kowa got hold of the second place ahead of Jana Schader from Switzerland.
The sunny and action packed first day of the Amarok Snowkite Worldcup was a great success! Tomorrow, exciting races in the disciplines racing and freestyle are waiting for the visitors of lake Resia.
Results Day 1 Long Distance
Sailwave results for 2019 SnowKite World
Adobe Acrobat Dokument
151.2 KB