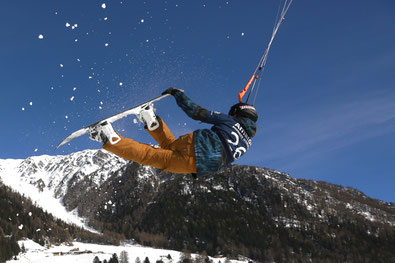 The first racing of the day with almost 70 participants from nine nations startet at 11:00am. Four exciting races were watched by numerous spectators. The evaluation of the racing results is currently in full swing. Once the evaluation is complete, we hand in the results as soon as possible.
Parallel to the racers, the freestylers presented spectacular jumps to the spectators at lake Resia.
Artem Sarashchenko from Russia was the best of the freestylers and achieved the first place. The second-best performance was presented by the South Tyrolese Flavio Marx. Fabian Oberhofer, also from South Tyrol, followed in third place. Marx says he was very happy with the day. He was able to show all the tricks and jumps he wanted to show. The conditions were great, only the wind could have been a little bit stronger. Overall, it was a great day for him.
Traditionally, the Riders Dinner will be held this evening, bringing together the riders, the organizers, the team and, this year for the first time the title sponsor Volkswagen Commercial Vehicles.
After the meal, the award ceremony of the long distance race and the freestyle competition takes place. The winners can not only look forward to a Worldcup victory, but also to the European Championship title.
After handing over the prizes, there is another ritualistic event. Another tradition, the official Worldcup Party presented by tronature, takes place in the "Kulturhaus Reschen".
Here the drivers and all participants of the Amarok Snowkite Worldcup celebrate the successful races.
Tomorrow the drivers will be back in the snow and hopefully will be able to show their best performance after a expectedly short night. The excitement who will win the tour stop in the discipline racing will remain until the end of the event on Sunday at 04:00pm.